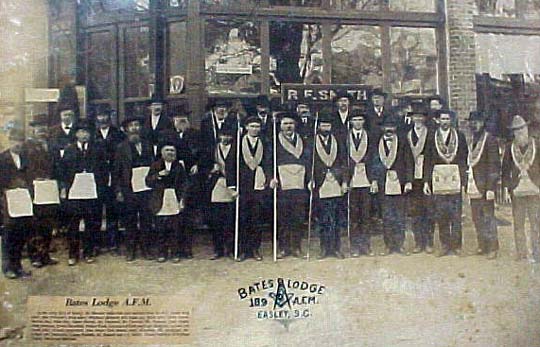 Bates Lodge A.F.M.
Easley, South Carolina

In the early days of Easley, the Masonic lodge hall was upatairs over the Smith drug store, now Frierson's drug store. Pictured front row from left: Mart Couch, Marion Day, Elias Day, Squire Barton, Mr. Glazener, Mr. Cureton, Mr. Pickens, Chief Smith, John Jamieson, Ernest Hamilton, Walker Ford, Lawrence O'Dell and Captain Hudgens: Second row from let Gransy Satterfield, John Sitton, Tera Bowie, Andy Hamilton, Mr. Langston, Mr. Galger, Mr. Holcombe, Laban Mauldin, Dr. Russell, and L.J. Smith.

Photo maybe found in the Pickens County Historical Museum and
Bates Lodge A.F.M., Easley, S.C.