Sixteenth
South Carolina
C.S.A.


for the yankees all run....

Sixteenth
South Carolina
C.S.A.

Emblems of Southern Valor, The Battle Flags of the Confederacy Joseph H. Crute, Jr. Illustrations by Roland N. Stock ISBN# 1-56013-001-6.

June 18 (?), 1862

Camp Lees burg Adams Run

Dear father and aunts. I take pen in hand to write you a few lines to let you know that I am well only my feet I scalded them with my shoes and socks. They was wet for two days and nights and walking scalded them. The regiment hant returned to camps yet. They are on Johns Iland a try to catch some yankeys but I donít think they will for the yakeys run and left all their overcoats and blankits and ower calvary got as many as they wanted and some of ower regimint got some. (Page Break)

There is four regmints on the iland and several hundred cavaldry there was one regmint fired on a horse company of ower men and killed three men and wounded thirteen more and killed five hourses they thought that it was yankeys a coming. I have been a cooking all day. There was four of us baked six hundred biskits to day to send to ower company We have wet weather now it has been raining every day for a week and still looks like rain to night. I think the regmint will all be back in a day or two as they hant got only two days (Page Break)

provisions with them and it is two fur to send to them every day. You wanted to know how I was making out for clothing I am a doing tolerable well yet one of my shirts is a getting small holes in it and one pair of my drawers the other is tolerable good yet. I donít know but I think I will get to go home in the course of two or three weeks if I knowed that I would I could do with out any more If you have the chance to send any by any boddy you can send me two shirts and two pair of drawers. (Page Break)

But if hant the chance to send them by some boddy that is a coming to the rigment donít sent them there is a great many boxes lost and robed. I would be verry glad to see you all and to stay with you. I think that when I come I will gett to stay as they want have any but ______ . ______ -- tell all my friends howdy for me and tell them I would be glad to see them all. I will write as often as I can my paper is very bad and my pen worse so you must excuse me for this bad writing __________-.

Yours truly,

William Payne
This remarkable letter has a date that is very difficult to read, however it appears to be dated but a few days after the battle of Secessionville on the eighteenth. The engagement described in the letter took place on the eighth of June on John's Island, so it is possible the correct date is the eighth.

One of the real problems at and before the Battle at Secessionville had to do with the division of command in the Department and this letter reflects those issues. The 24th South Carolina was at that time under the command of Colonel Johnson Hagood who reported to General Smith. The 16th South Carolina was under the command of General Shank Evans who was in command in Adams Run and everyone reported to General Pemberton.

Prior to the battle, Evans who ranked Hagood was ordered to disrupt the Union line of march across John's Island. Evans was less than aggressive. Had he not failed, he could easily have caught General Wright and "whipped him good" as Wright was strung out in the summer heat and rain.

Wright's column of march was easy to follow as the weather caused the men to discard any and everything that was extra weight. Indeed those boys in Wright's command were shedding stuff like a rattlesnake in October, the Carolina sun was broiling them and the humidity and summer storms were drowning them. With all these problems it is no wonder they were dicarding everything they could. The picking was good for the Confederates sweeping up the wake of Wright's column.

Shank to was busy at forever being Shank, and that mixed with his personal habits, made for a performance that was less than stellar by the confederates serving under him on John's Island. However, in his reports and in his handling of the press after the battle of Secessionville, Old Shank went beyond the pale, even for him. As if that wasn't enough, Evans also managed to shift the blame for his lack of activity to another officer who was in turn charged with drunkenness. The officer died later at the head of a regiment in Virginia and was certainly no worse that his tormentor. All of this was nothing more or less than politics and war South Carolina style. The end result was yet another reorganization of the command structure.

As stated earlier, the 16th, along with the other units under Evans command were being marched a good bit and fought very little. The three other regiments are the 17th South Carolina, Holcombe's Legion, and the First South Carolina Infantry. These units along with Campbell and Trezevant Troops of Cavalry, Jenkins' Rebel Troop and the First S.C. Cavalry as well as the Marion Light, Washington and a Virginia artillery unit were all under the command of Evans at this time. If the date is June 18, the Secessionville battle is two days past and the Confederates are striking back on Johns and James Island. The Union forces will withdraw from James Island in early July. For additional information see Patrick Brennan's, Secessionville, Assault on Charleston, the book is just a great read and it is loaded with information. It is a well told story and has loads of uncommon photos.

I suspect it would be best to close by saying that whatever the circumstances, William is being marched and his feet have blistered, scalding been the term common to the time. His duty as a cook indicates just how well things were going for the men of the Sixteenth at the time this was written. William speaks of the universal themes of the Confederate soldier, lack of clothing and a desire to come home. William and his brother Aaron both served as Privates in Company B of the Sixteenth South Carolina.

E-Mail Descendant who provided letter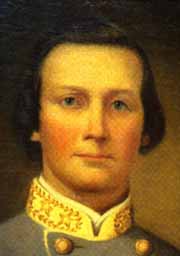 To Return to the Letters Index, follow General Gist; to go home, follow the flag.